Curriculum
13/07/2007 tot 20/07/2007
Trip to Lavacherie, near Bastogne.
03/06/2007
On Sunday June 3rd Koordinaat organised a concert "Rosarium in saecula" around the ric tradition of religious music. Using Pater Nosters and Ave Maria's Koordinaat covered five centuries of music history, from polyphone works from the late renaissance up to contemporary religious music.
21-22/04/2007
Koordinaat wins just about all prizes that can be won on the Korenfestival Vlaanderen in Kontich: with a result of 95% Koordinaat is awarded a first prize cum laude by the jury. In addition Koordinaat is elected "best choir" by the audience, en we also receive the Koor&Stem-prize for the best performance of a Flemish folk song. This recognition by both the professional jury and the audience is an important token of appreciation and confirms that in less than a decade Koordinaat has established itself a respected position among Flemish choirs.
16/12/2006
Christmas concert for patients, personnel and visitors of the UZ Leuven, campus Gasthuisberg.
03/11/2006 and 05/11/2006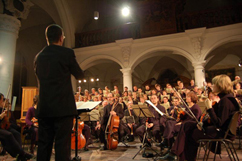 Performance of Mozart-Salieri: 2 rivalen, 2 requiems, featuring Mozart's Requiem as well as Salieri's Requiem. This concert was performed twice, in Antwerpen and Leuven.

In this project we collaborated with the choir vocAmuze from Burcht, and with the orchestra SalzArte. As for the soloists, we had the opportunity to work with four young, yet renowned musicians: Liesbeth Devos (soprano), Gunther Vandeven (altus), Lars Piselé (tenor) and Kris Belligh (bass). Conductor of the whole project was Dimitry Goethals.
15/07/2006 until 22/07/2006
Trip to Oberbettingen, near Trier, Germany.
05/05/2006 and 06/05/2006
Multi-choir twin-concert Klinkende Medeklinkers in Grimbergen and Leuven, with vocaal ensemble Spumante and the Carmina choir.
11/12/2005
Christmas performance for Noot voor Nood in Leuven.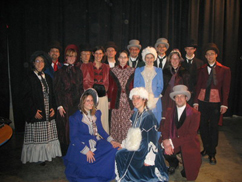 15/07/2005 until 22/07/2005
Trip to "de Schoolthoff", near Deventer , the Netherlands.
29/05/2005
Concert Portie Nootjes in cooperation with Vox Antiqua from The Hague.
27/02/2005
Performance in mass in the Sint Elisabeth Begijnhof church in Gent, as part of the Missa Festival.
26/02/2005
Participation in the Provincial Choir tournament of the province of Vlaams-Brabant, where we held our previous position in first division.
31/01/2005
Choir meeting in Maaseik.
21/01/2005
Charity concert in Heverlee for Tsunami 1212.
23/12/2004
Christmas concert in Heverlee for the MS Liga.
28/07/2004 to 01/08/2004
Koordinaat participated in the vokal.total.2004 festival in Graz, Austria
08/05/2004
Concert with the Children's and Youth Choir Koratio in Zaventem.
01/05/2004
Gospel's in the air with Annelies Meskens (soprano-solo) and Christine Benoot (piano), in the Maria Theresia College (MTC), Leuven.
11/01/2004
New year's concert "Noten na Kerstmis" in cooperation with the Children's and Youth Choir Koratio
20/12/2003
Charity performance in the streets of Leuven
13/12/2003
Concert "Een Kerst Contrast" (a Christmas contrast) in Wiemesmeer-Zutendaal
19/03/2003
Performance of our concert Een glas contrast (A glass of contrast) in the St-Waldetrudischurch in Herentals
12/03/2003
Performance of our concert Een glas contrast (A glass of contrast) in the St-Lambertuschurch in Heverlee, near Leuven
11/08/2002
Performance in mass (Erika Budaï's Missa Passchalis) broadcast live on Radio 1, the national radio station
10/03/2002
Participation in performance and organisation of Händel's Messiah in Leuven, conducted by Dirk Snellings
09/03/2002
Participation in performance and organisation of Händel's Messiah in Maaseik, conducted by Dirk Snellings
20/01/2002
Participation in the Provincial Choir tournament of the province of Vlaams-Brabant, where we were promoted to first division
11/03/2001
Choir tournament, Kontich
14/01/2001
Participation in the Provincial Choir tournament of the province of Vlaams-Brabant, where we were confirmed in 2nd division
13/12/2000 and 17/12/2000
Our own &ldqou;Winter concert" in Heverlee
25/03/2000
Participation in the performance of the Johannes-Passion of J.S. Bach in Maaseik, together with four other Flemish choirs and conducted by Louis Devos
23/01/2000
Participation in the Provincial Choir tournament of the province of Vlaams-Brabant, where we were assigned to 2nd division
26-28/11/1999
Participation in the IXth International Petr Eben tournament, Prague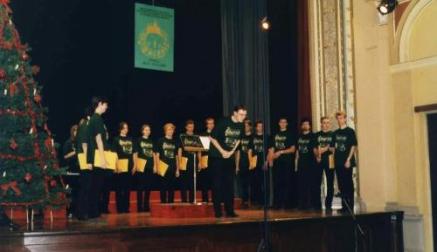 And some smaller performances:
Performance at the Spring Concert of Wina in 1998, 1999, 2000 and 2001
Performance at the Formal Promotion of the faculty of Sciences of the university K.U.Leuven in 1999 and 2000
Performance at the Formal Promotion of the faculty of Psychology and Educational Sciences of the university K.U.Leuven in 2002 and 2003