History
Although Koordinaat started out (under the name Winakoor) with performances at the yearly spring concerts and several official occasions, pretty soon we started looking for new musical challenges. One of these was participating at the international choir festival Petr Eben in Prague (November 1999), and the recital of the Johannespassion of J.S. Bach, conducted by Louis Devos (March 2000). In December 2000, Koordinaat organised two performances of our Winter concert in Heverlee. In March 2001 Koordinaat, was invited to the choir festival of Kontich. While performing, we mainly focus on conveying our enthusiasm and our love for music, without compromising the artistic quality of the performance.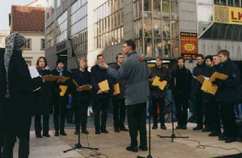 2002 was quite a festive year for Koordinaat. Not only did it celebrate it's 5th birthday, it also reached 1st class at the provincial choir contest of Vlaams-Brabant. The absolute climax was the performance of Händel's oratorium Messiah in March 2002, in Leuven and Maaseik. In July 2002 Koordinaat travelled to Switzerland to give a concert in the village of Saas-Grund. At the same time Koordinaat prepared for a mass that was broadcast live on national radio (Missa Passchalis by Erika Budai) at August 11, and a number of marriages in the autumn of the year.
In the spring of 2003 Koordinaat performed a brand-new concert, titled Een Glas Contrast (a glass of contrast). Also, we brought Missa Passchalis a second time in the city of Tienen at the festival Dies Domini. We closed the holiday activities of that year in January 2004 with a concert called "Noten na Kerstmis" (Notes after Christmas). It was the start of fruitful cooperation with the Children's and Youth Choir Koratio.
On May 1st of 2004 Koordinaat organized a concert centered around the theme of American music, from negro-spirituals to Gershwin and Bernstein. In this concert, we were assisted by some professional musicians: Annelies Meskens as soprano-solo, and Christine Benoot at the piano. On May 8th of this year, we performed another concert together with Koratio, in Zaventem. We closed the year with a Christmas charity concert.
In 2005, the Netherlands played an important role for Koordinaat: there was a choir trip to Deventer and we cooperated with the Dutch choir Vox Antiqua for the "Portie Nootjes" concert in Kessel-Lo. Next to that, Koordinaat performed a few times at wedding services and local events and sang for "Noot voor Nood" once more in December. In the meantime, the preparations of the next big project continued as well: the performance of Mozart's and Salieri's Requiem in November 2006.