Northern Lights

Northern lights is one of the most magical natural phenomena, an intangible and unpredictable, colourful and spectacular display of light, both terrifying and mysteriously beautiful. In past centuries, people saw in it a holy fire or joyfully dancing ghosts of deceased loved ones. This sets the tone for a concert that puts Scandinavian composers in the spotlights.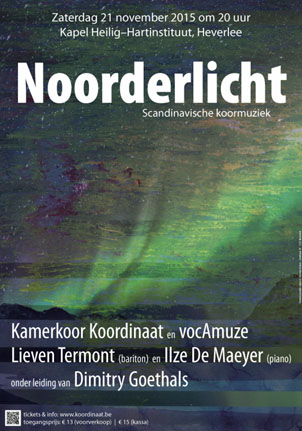 We take you on a fascinating journey along subdued psalms by Grieg, dreamy poetry of Shakespeare to tones of Mäntyjärvi and Lindberg, patriotic music of Sibelius, folky tunes by Pedersen, religious work by Soderman, Gjeilo and Ahlen and of course Gjeilo's Northern Lights. All this is knit together by Grieg's Lyriske Stykker for piano. The inspiring location and a thematic art exposition with paintings by the Nordic artist Bente Elisabeth make the experience complete.
The concert takes place on Saturday the 21st of November, at 8pm in the chapel of the Heilig-Hart institute in Heverlee. Tickets are available for 13 euro in advance sales and 15 euro at the door. Tickets can be ordered on-line on this site, or through the choir members.