Koordinaat is a young Belgian chamber choir consisting of roughly 35 young singers. It has been conducted by Jan Van Hove since it was founded as a student choir in 1997. Under his professional direction Koordinaat has acquired a vast repertoire the past 10 years, comprising both old, classical and contemporary music.
Despite its young age, Koordinaat has gained a firm reputation in the Flemish choir landscape. Koordinaat operates primarily in Leuven, but occasionally one can hear us perform elsewhere in Flanders or even abroad.
In the beginning Koordinaat focused on the musical activities of the Science Faculty and the student group WINA (spring concert, proclamations, offical events, ...). Gradually our focus shifted to organising our own concerts, often in collaboration with other choirs, and participating in various festivals and contests. Many singers study music at the academy or conservartory.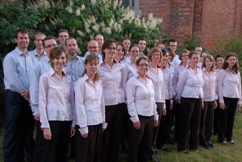 Koordinaat is a member of the Vlaamse Federatie voor Jonge Koren (VFJK) and is registered at the Provincie Vlaams-Brabant (for participation in provincial tournaments).
In our performances we try to convey our enthusiasm and love for music to the public, while in the mean time we refuse to give in to any diminishment of artistic quality of the performance.
If you want, you can read some more of our history.